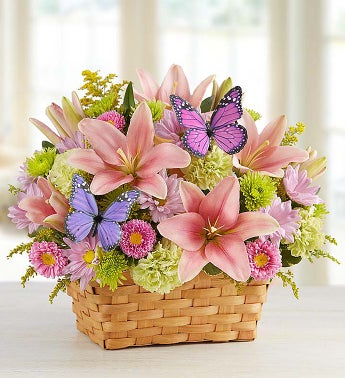 Spring Inspiration™
Mother's Day Flowers Delivered
Each year we celebrate Mother's Day on the second Sunday in May. This is the one day each year that we make sure to take time out to make Mom feel special and to thank her for all that she does. We can stress ourselves out worrying about getting just the right thing to express how we feel, but today there are more options than ever that will light up a special mom's day. Fresh Mother's Day flowers from 1-800-Flowers can arrive in a gift box or be delivered by a local florist. And there are no excuses since today's flower delivery is a cinch for even the busiest person.
Fresh Flowers Delivered
Nothing says "I love you" quite like having Mother's Day flowers delivered to the special mom in your life. There is something about having fresh flowers sent from a loved one that will make her smile every time she looks at the bouquet. Maybe it's the time she knows you took to send the flowers. Maybe it's the flower arrangement that was so carefully chosen to reflect her individual tastes. Mom will love it when you take the time to send her a thoughtfully selected gift.
How wonderful that Mother's Day falls in the middle of Spring, making fresh flowers, fruits, and plants available. Spring brings an abundance of stunning roses, tulips, lilies, and gardenias in addition to gorgeous gerbera daisies, hyacinths, and so many more. The color palate of flowers is one of pinks, reds, yellows, oranges, purples, blues, and white. They can be arranged as one type of flower or complementary flowers can be combined for spectacular effect. Whatever you're looking for, 1-800-Flowers can help.
The Flower Vase
Remember that the vase that comes with an arrangement lasts beyond the flowers and will remind Mom of your thoughtful gift each time she uses it. Vases come in a myriad of colors and shapes and often have other uses, like as pitchers or tea cups or coffee mugs. Some flower arrangements you'll find especially for Mother's Day at 1-800-Flowers are in watering cans or decorative vintage style boxes. They can be glass, ceramic, tin, or wood. Mom will get sentimental about that unique vase for many years to come.
Considering the Gift of a Plant
More than ever before, the options for Mother's Day flowers delivered to Mom are extensive. But flowers are only one option. 1-800-Flowers offers a variety of ways to make Mom feel special. Consider flowering plants or dish gardens as a new gift idea. A bonsai or topiary is an unexpected and unique option for Mother's Day. A bonsai gardenia plant delivers a serenity that she will welcome. A fragrant jasmine topiary brings a beautiful plant with jasmine-scented flowers. Another option is a Mommy and Me set that includes seeds and all you need to grow sunflowers together. There is nothing wrong with going beyond tradition and giving her something to show all her friends this Mother's Day.
Gift Baskets and More
1-800-Flowers can deliver a wide range of gift baskets and assorted gifts, too, if you want to consider something a little different. What about a cookie bouquet made to look like a dozen roses or a colossal fortune cookie covered in white chocolate and personalized with your special message to Mom? If your mother deserves breakfast in bed (don't they all?), a breakfast-in-bed gift tray would be the perfect gift, complete with all of the goodies to start her day off right. You can even have chocolate, cookies, or strawberries and other types of fruit delivered.
So Many Choices for Mother's Day Gifts
You'll have no excuse for forgetting Mom's special day this year. You can choose to have a stunning arrangement of Mother's Day flowers delivered right to the special mom in your life. Or you can send a longer lasting plant for the Mom that wants something for that empty window box. The additional choice of gift baskets and goodies makes it easy to find the perfect gift for that special woman in your life. Let 1-800-Flowers help you make this a Mother's Day she will never forget.
Shop Mother's Day Gifts
Now that you have all these great ideas, shop now for Mother's Day flowers and gifts from our Mother's Day Gift Guide.